Daihatsu Mira L5 Classic
I bet ballmers goal is $5.99 billion profit next quarter.
:rolleyes:
---
Daihatsu Mira L5 Classic; Daihatsu Mira L5 Classic. Daihatsu+mira+l5+classic; Daihatsu Mira L5 Classic
I call up Verizon and tell them I have a problem, on last thursday, I talk to a supervisor and we get the issue worked out. She asked me when I would like my credit applied, as soon as possible or on my next billing cycle. I told her as soon as possible, I had my credit applied to my account saturday.

I know this got a off topic, but switching back to a crap company like Cingular is not in my future, no matter if they call me up and offer me a free iPhone to come back to them.

Christopher

You got customer service from Verizon? Is this before or after they tacked on the taxes that aren't being collected anymore? Or crippled the Bluetooth on their phones? Or put a terrible GUI on their phones? Or any other number of things that they've done that are anti-consumer?
---
Daihatsu Mira L5 Classic;
AndroidfoLife
Mar 29, 03:07 PM
I predict that in 2015, iOS handset users will still have the highest customer satisfaction and that Apple will be walking away with the lion's share of the smartphone industry's profits.

Meaning there will be more grumpy non-iPhone users and more grumpy HTC/Nokia/Samsung/Motorola/LG shareholders.

Highly doubtful the other companies and react to growing customer needs faster then apple can. I think in 2015 windows phone 7 could have a good run. Depends on some factors. One of which is RIM. If RIM slips a little more its enterprise clients will jump right to WP 7. As an android lover I know it is not ready for Enterprise and iOS is seen to be more of a novalty smart phone by the greater tech world. I am not going to lie a Blackberry bold 9700 looks like the real deal when it comes to getting work done on your cell phone. Everything else looks like a toy in comparison.
---
Daihatsu Mira L5 Classic
neuropsychguy
May 3, 11:55 AM
The trackpad option is awesome. Every bundled Apple mouse I've gotten for the past 15 years has gone straight in the trash. The only good mouse Apple ever made was the ADB II. At least now I get a free trackpad to play with! Cool!

I'd love to have a trackpad but I do really like the Magic Mouse. It's not super ergonomic, of course, but I like it more than most other traditional mice.
---
Daihatsu Mira L5 Classic;
I've just finish chatting with a person on the apple website. She told me that I can use the new imac (21 and 27") thunderbold input to use the imac as an external display. Only if it comes from a thunderbolt output (like an macbook pro for exemple).
---
Daihatsu Mira L5 Classic.
jettredmont
Sep 13, 09:27 PM
Hmm. A few thoughts.

First, the "candybar" reference you make is quite apt: this looks a lot like the LG Chocolate. Which, of course, was designed to look like an iPod, so duh. But, I foresee market confusion. At least the buttons here will have some response to them (I hope!).

Second, I'm not sure about the slide-out idea. I like the idea on many cell phones as a way to keep buttons from being pressed accidentally, but greatly prefer Apple's iPod "Hold" switch over a physical drawer or "key lock" mechanism. With the music buttons so exposed, seems we'd still need a "hold", and it'd be silly for that to only apply to half the device. More, though, I worry about how flimsy the device will feel with the scroll wheel "slid out". Granted, that seems infinitely better ergonomics than the keyboard itself sliding out (can slide open and dial with one hand in one smooth movement without re-adjusting phone in hand). But, still, I worry about the likelihood of the wheel "drawer" snapping off. I hate to see iPods in such pain!

Third, what about cases? My cell phones without cases always end up looking like crap. I wouldn't want a nice shiny black iPhone to be all beaten up a week after I got it. How would a case work with a slide-out drawer? Are we stuck using socks?

I'm assuming that the non-numeric controls (answer the phone, hang up, you know, the little not-so-important functions) are also in the drawer. Does that make sense for answering the phone while on the go?

Finally: size? I know, most of the world doesn't have American-size Big Mac fingers. Still, I can't imagine using a keypad small enough (both width/height and depth) to fit under the scroll wheel of a nano. If you make it that small, the buttons have to be really bulby and stiff (see Treo); otherwise you just hit the wrong one too often.
---
-Daihatsu MIRA L5 classic
pastafazoule
Apr 30, 03:16 PM
Still loving my 21.5 inch i3 iMac.
I am hoping it gets a chassis redesign though.

i hope there is a white 27in
---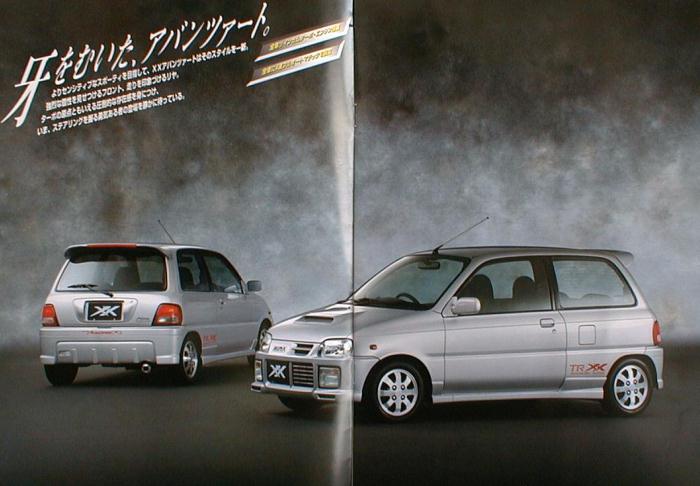 DAIHATSU MIRA L500 MODEL
Actually, "this complaint" is about something that is in the developer's guide. The use of Apple icons. There have been lots of apps that have been rejected over it because of the use of icons to similar to other iPhone system icons, or Apple OS icons.

No, actually it says:

(d) To the best of Your knowledge and belief, Your Application and Licensed Application Information do not and will not violate, misappropriate, or infringe any Apple or third party copyrights, trademarks, rights of privacy and publicity, trade secrets, patents, or other proprietary or legal rights (e.g. musical composition or performance rights, video rights, photography or image rights, logo rights, third party data rights, etc. for content and materials that may be included in Your Application);

This is language with legal meaning. There is almost certainly no copyright infringement (fair use, which is a multi-factor test - making money off of the "copying" doesn't eliminate it. Or implied license/exhaustion.)

It doesn't say "you can't use apple icons." It says "you can't INFRINGE apple copyright."
---
-Daihatsu MIRA L5 Classic Side
But then they'd have been hammered with 2 law-suits, and then lost their 2nd biggest customer. Thats financial suicide, Apple would find someone else for parts.

4% doesn't sound like financial suicide to me. Though I do believe that Samsung would probably try to avoid losing that 4%.

Apple would probably find someone else for parts, but the question is if the quality/price would be the same. If I was a parts manufacturer, I would take advantage of this, knowing Apple is in desperate need of new parts. Cha-ching!!!!
---
Daihatsu+mira+l5+classic
I want to thank you all for providing me such wonderful entertainment on my lunch break!
---
Daihatsu+mira+l5+classic
AidenShaw
Mar 22, 02:38 PM
I want to know where to get a list of products that hook onto Thunderbolt.

Rocketman

From terminal, to see all the shipping Thunderbolt products use the command

cat /dev/null


http://www.lacie.com/us/index.htm

Coming summer 2011 - at least 3 months away.
---
Daihatsu+mira+l5+classic
It makes sense. iProducts are increasingly becoming ubiquitous, therefore they will become more profitable for malware developers to attack. It's not a McAfee sales pitch so much as it's stating the obvious. Same with Android.No, it is the same nonsense that Microsoft and its apologists have been saying for the past decade. It isn't any truer today than it was a decade ago.
---
Daihatsu Mira L500
I hope for good quality movies too. What is realistically the limit on quality that they can implement and still have it be manageable with a normal average speed broadband connection? Just curious.
---
1999 Daihatsu Mira Classic
iMacZealot
Sep 17, 08:29 PM
(oops, double clicked submit)
---
L5 classic RPM Rm300
Clive At Five
Sep 19, 02:53 PM
I am, however, starting to see why they allowed a sneak preview of iTV. Look how many of us are saying "I can't wait for iTV!" now that we've had some time to experiment with iTunes movie downloads!

I don't quite agree. I think that the preview was mostly to deter comments such as, "Why the hell would you want to pay full price for and download a full length movie that you can only watch on your computer screen or iPod."

Apple is finally using the iTS for your household, not just your iPod/computer.

Welcome to my living room, Apple. Pull up a chair.

-Clive
---
1994 Daihatsu Mira [L500]
FSUSem1noles
Apr 22, 05:28 AM
Great, another way to chew through our cellular data..

I can see it now, after the release of this "cloud service" the cell companies are going to scream bloody murder "our networks can't handle all this data consumption on, we have to raise rates to upgrade our infrastructure, yada, yada.."

Zooooooom, we the consumer get the shaft yet again!
---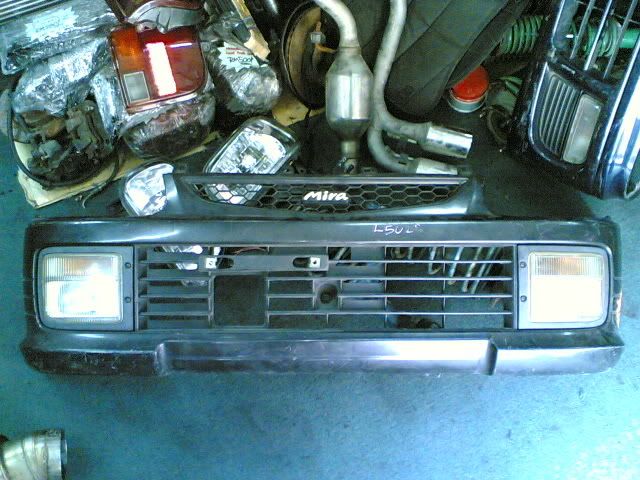 picture Daihatsu+mira+l502; Daihatsu Mira L5. used cars y daihatsu mira; used cars y daihatsu mira
I've been after a new iMac for a very long time.

Hopefully the screen consistency will be better than on previous iterations. I returned the last two I'd bought for dead pixels and big dark bar disorder.

Most irritating.:mad:
---
used cars y daihatsu mira; Daihatsu Mira L5. Daihatsu Mira L512; Daihatsu Mira L512
Three points:

1) Microsoft is primarily a software that is transitioning from a two trick pony into a diverse company addressing many areas - such diversification will take years to occur but to write Microsoft off at this stage is simply being stupid (as some have done on other forums out there on the internet).

2) Apple is stretched too thinly with the latest font fiasco being one of many fiascos; from the design defects in MacBook Pro's generation after generation to the design defect in the iPhone 4, the constant bugs appearing and made worse in each release and update of Mac OS X. Then there is the mountain of bugs in iOS with phones being dropped in terms of support asap and bugs once again not being fixed. Sooner or later people are going to catch onto the fact that Apple isn't dedicating the resources to their products and it'll come back to bite them in the ass. Apple is on a winning streak but remember that these winning streaks can't last forever.

3) Lion appears to be yet another example of a rushed job by Apple where once again a mountain of bugs are introduced, old bugs aren't being fixed promptly, promises but failure to deliver, new features but old hardware unsupported even though the actual hardware itself supports the said features (OpenGL 3.x support being one example of that). Again, sooner or later people are going to hook onto the fact that once again Apple ships yet another half baked operating system that'll require minimum 2-3 combo updates just to make it useful not only for end users but also for third party vendors to write their applications against.

Cheer all you want but there are genuine issues that need resolving by Apple but I don't see it happening any time soon. As for me, I am holding off till the end of this year to decide whether I stick with Mac's or whether I head over to the Windows world. If they can't even design a 17 MacBook Pro correctly then I don't hold out much hope that Lion isn't a complete clusterf-ck.

Edit: For WP7 haters, I suggest you actually use one before judging it. Microsoft is like Intel, a large company that takes a while for the ship to be turned around - anyone who remembers the P4 fiasco should remember how long it took for them to get back on track again. Microsoft is in the same situation, it will take at least 1-2 years to get back on track and by that time Microsoft will have a product for the tablet that'll be running Windows and Microsoft Office. People may boohoo Microsoft but when push comes to shove the big corporates will be wetting their pants with delight when they see a tablet running Microsoft Office.

Yes, we'll just wait patiently while they catch up. No rush.

Oh, and Apple and Google just called and said they'll stop innovating and stand still as a friendly gesture.

This isn't 1995.

MS is unprepared for the current competitive situation. Google has shown just how flat-footed and out of touch MS really is. We have a mass-market commodity-ware vendor that apparently has the power to give things away for free that are "good enough." Before, MS used to be the "just good enough" vendor. Then you've got Apple on the Premium end showing the way forward.

This "You just watch, MS will catch up eventually" tactic is currently and will in the future continue to produce diminishing returns.

MS is Zuning it in the current tech climate. Bad management, false starts, a string of failures, continual embarrassment . . . all of this would be no problem at all, if only investors, shareholders, directors - whoever has the power - would call for the entire top-level management at MS to be terminated. THAT is positive change. But same old same old . . .
---
Daihatsu+mira+l5+classic
The client and server releases of OS X already have some form of software based anti-malware protection.

The Snow Leopard client version includes xProtect to detect most of the trojans that compromise OS X.

The Snow Leopard server version includes xProtect and Clamav (email scanning but database does include OS X threats as well).

I would be surprised if both features were removed from Lion.
---
He's definitely lying about some stuff
http://forums.macrumors.com/showpost.php?p=7705428&postcount=15
How true, and she would have deserved to get it keyed. Why can't my mom or dad be a rich lawyer or doctor or something like that?
In less than 3 years, your mom went to law school, passed the bar exam, and became the top attorney in the biggest law firm in your state? Impressive.
http://forums.macrumors.com/showpost.php?p=10945954&postcount=40
No they weren't. This has been discussed time and time again here. The word "App" has been used for decades to describe a software Application.

For example "Killer App", or more recently, "Web App" ( Java )

I still have a netscape T-shirt from the mid-to-late 90s with a Mozilla and "Internet's Killer App" on the back .. and Web App .. everyone uses that term (not just java) to describe some sort of pluggable thing into <insert web service> framework .. you could say that Jobs pioneered some of this back at NeXT with Objective C Web Objects .. but that might be a stretch if you ask Booch or the OMG
---
Maccus Aurelius
Oct 27, 04:29 PM
The very fact that all laptops contain mercury in their displays, the very fact that apple is one of the only computer companies that no longer sells mercury-laden CRT screens (As mentioned by another in an earlier post Thank you DELL!) makes this a complete and utter wank.
---
Quite simply, the way Intel is going about quad-core at this point in the game is both cautious and underwhelming. Once true quad core becomes a reality (and not simply two dual-core chips on a single peice of silicon, like Clovertown and Kentsfield), and the FSB is replaced by direct interconnects, then I'll upgrade from my Mac Pro. Otherwise, I expect the machine to remain capable and viable for the next three years or so.

But that underwhelming feeling can be a good feeling. You know you are working on the latest hardware.

I expect to see a speed-bump in the next 5-6 months for the MacPro, but nothing else.
---
Why does the high-end Conroe cost more than the high-end Woodcrest?
---